You're running errands and lunch time has crept up on you. Red Robin french fries are calling your name. There is plenty of food at home but you want something now. What does eating out cost you? Is it worth it?
According to Statista, as of November 2013:
8.3% of respondants stated they visited casual dining restaurants three times a week
20.9% eat out two times a week
34% eat out once a week
27.4% eat out once or twice a month
4.2% eat out less than once a month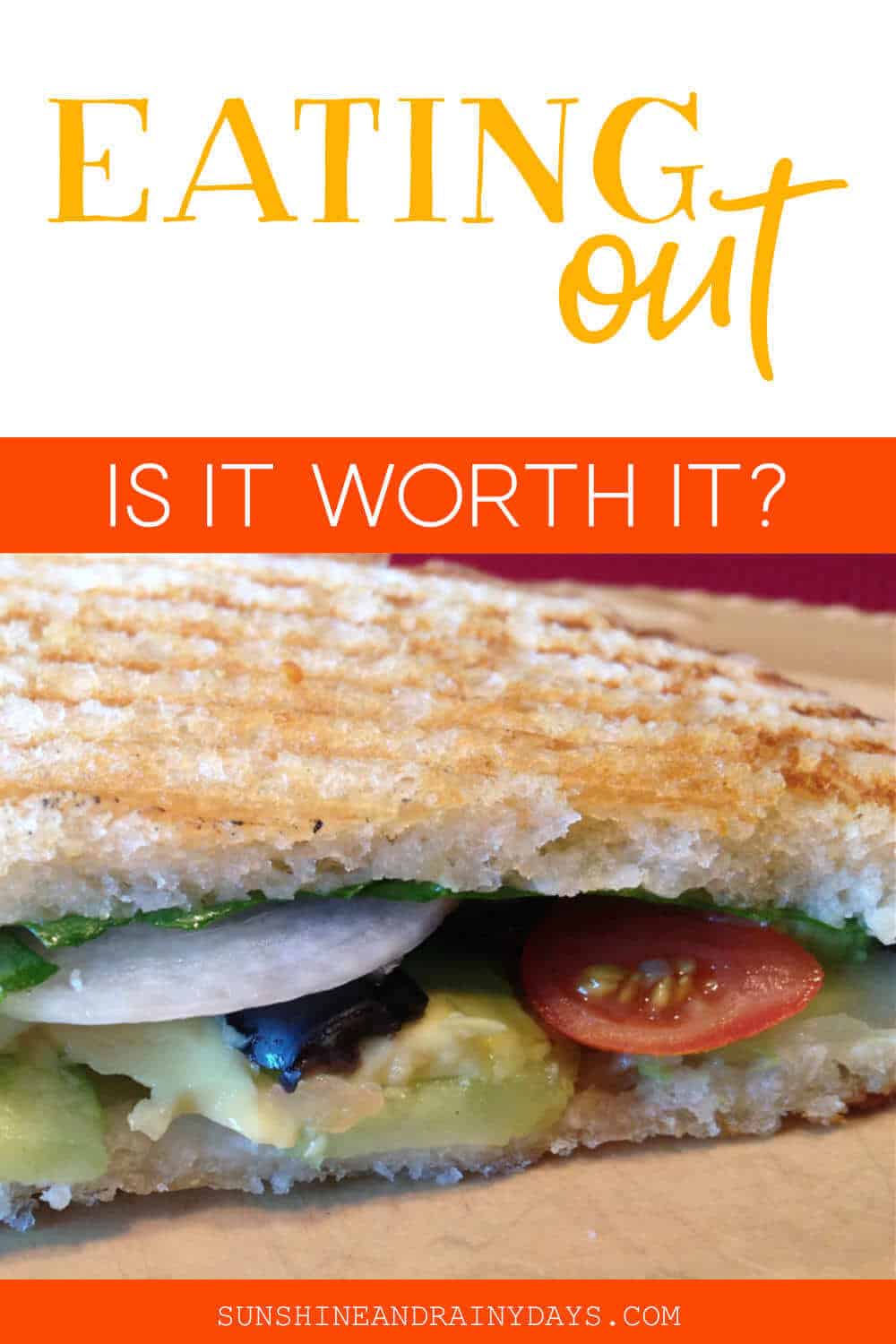 Monetary Costs Of Eating Out
If you are a family of four and go out to eat once per week, spending an average of $50 with tip, a quick calculation says you are spending $2,600 a year to eat out. This is a conservative number, especially if you have teenagers who enjoy eating. That's a whole lot of money but it might be worth it to you.
How to Save when Eating Out
Sign up for loyalty rewards: Many casual dining establishments have loyalty plans. Red Robin

offers a free Birthday burger, every 10th item free, and other surprises.

Applebee's sends perks via email. The last one we received was for $5 off our next visit.
Look for coupons: Restaurant coupons can be found online or even in the newspaper at times. Olive Garden often has coupons in the newspaper.
Drink water: At $2 a drink, a family of four could save $8 on their meal by simply drinking water. It's healthier too. Bonus!
Skip the appetizers: They make them look so good but you may satisfy your appetite before your meal arrives. If you love appetizers, how about making it your meal?
Order wisely: Do you really need to order the most expensive meal on the menu? I must admit, my hubby usually does, probably because we don't go out too often. Or do we not go out too often because he does? Question to ponder!
Save some for later: Portion sizes are usually quite large when eating out. Divide your meal in half and take the rest home for lunch the next day!
Skip dessert: If you still have a sweet tooth, have a bowl of ice-cream at home or bake up a batch of brownies!
Health Costs
Americans tend to eat more when at a restaurant than when eating at home. They also eat food they normally wouldn't eat. Personally, I enjoy eating whole food at home where I know exactly what is in my food.
Ways to Eat Healthy at a Restaurant
Drink water: Drinks add a lot of empty and undesirable calories to our bodies. It's just better to drink water!
Order your way: Don't be afraid to ask for what you want. Most restaurants are happy to accommodate. As a vegetarian, I scour the menu for sides and ask to combine them as a main dish.
Sauces on the side: Instead of smothering your salad with ranch, dip your fork in the ranch cup and then into your salad. You get the taste without so many calories.
Keep it simple: Look for menu items that are steamed, grilled, or boiled.
Get a box: Before you even start your meal, box up half to take home for later.
Time Costs
This post contains affiliate links. When you purchase through an affiliate link, we receive a small commission at no additional cost to you. Disclosure.
It's convenient to eat out when you've had a long day or are out and about getting stuff done. Thinking ahead may take a little time but leave you with desirable results.
Pack a lunch: It may take a little time upfront, but will be quick and easy when on the go. This goes for work too! My husband used to take Healthy Choice microwave meals for his lunch. It's even healthier and more economical to pack up leftovers from dinner for lunch! We purchased rectangle Pyrex glass food storage dishes (affiliate link) that are the perfect size for heating up and eating out of!
Plan your trips: Run errands between meals so you are sure to be home by lunch or dinner.
How often do you eat out?
Presently, we are in the 4.2% category of eating out less than once a month. We have been known to celebrate Birthdays, Anniversaries, etc. by going out. Truth is though, I much prefer my husband's cooking at home! For us, eating out is only worth it occasionally.
It really is okay to eat out. Life is all about choices and making the best possible financial, health, and time choices for your family. If it's not in the budget, don't eat out. If it's in the budget, go for it and enjoy!